TIVA Building Products
TIVA Building Products has been in the plastic extrusion molding industry for over 20 years. This vast experience in a rapidly changing industry has made them the plastics experts they are today. With this extensive knowledge, TIVA's team of structural and chemical engineers, alongside architecture and design experts, created an innovative PVC decking and dock collection that has exceptional performance and an exotic finish.
TIVADEK
WESTON FOREST is the exclusive distributor in Canada.
TIVADEK has designed specialty wood colours and high performance PVC boards.
Using advanced Carbon Nanotechnology, TIVADEK is an industry leader that uses the highest quality materials to make your outdoor oasis last a lifetime.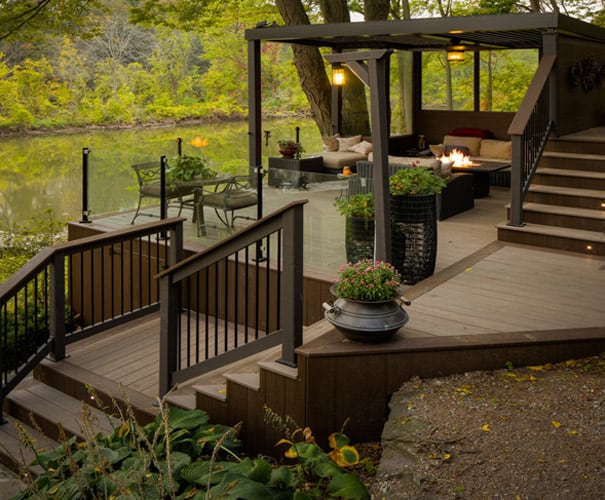 Right to the Core

TIVADEK PVC decking uses advanced Carbon Nanotechnology to construct its core. This unique and industry leading technology is what makes TIVADEK PVC decking one of the strongest and most stable PVC deck boards on the market.

Got you Covered

Our advanced PVC core is capped with an ASA capstock. ASA (Acrylonitrile-styrene-acrylate) is a tough and rigid plastic that is well known in the automotive industry for its heat resistance, colour retention, and high outdoor weatherability.

Get the Edge

An industry first! TIVADEK is the only deck board on the market that has embossing on all four sides. This feature allows you to achieve high-end details and a clean finish every time.

Look and Feel

Aesthetics are just important as the feel. With our trendsetting embossing and multi-tone colour variegation, TIVADEK boards stay in tune with the latest home trends.
TIVADOK
WESTON FOREST is the exclusive distributor in Canada.
This 2 x 8 Cellular PVC dock board is everything the industry has been waiting for!
Maximize living and minimize maintenance, as TIVADOK solves all your dockside worries. No more rotting, fading or framing issues!
With an easy installation and span rating over 24" on centre, TIVADOK is the perfect dock board for all waterside applications!
Cellular PVC Core – no mold, mildew or rotting!

Acrylonitrile-Styrene-Acrylate (ASA) Capstock – outstanding colour retention!

Aluminum-reinforced core – achieves up to 24" spans!
Contact
TOM JOLIE
Manager – TIVA Building Products
T: 416.400.4562    
tjolie@westonforest.com
Download V-Card
---